Link: https://www.csmonitor.com/USA/Justice/2020/1214/2020-s-murder-increase-is-unprecedented.-But-is-it-a-blip
Graph: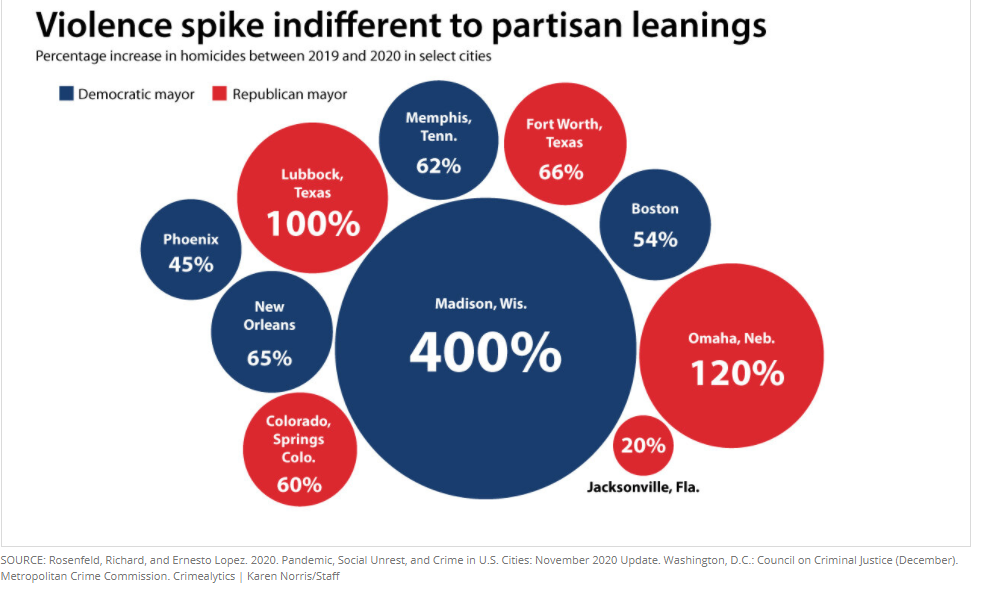 Excerpt:
For all its singular tragedy, Ms. Nguyen's death is part of a tide of gun violence rising from New Orleans to Lubbock, Texas. Coming off a record low in homicides in 2019, New Orleans saw its rate spike by over 50% this year. It is not, by any stretch, an outlier. Lubbock doubled its murder rate, so far, from 2019 to 2020.

To be sure, overall crime has dropped dramatically in the U.S. since the late 1990s. But the 2020 homicide rate "now exceeds the rates of the late '80s and '90s, before the big drop," says Richard Rosenfeld, lead author of "Pandemic, Social Unrest and Crime in US Cities," a new report. "This round of crime increase is unprecedented."

This year, 51 cities of various sizes across the U.S. saw an average 35% jump in murder from 2019 to 2020 – a "historically awful" development, says New Orleans-based crime analyst Jeff Asher, who crunched those numbers. A different study looking at 21 U.S. cities found 610 more murders in those jurisdictions this year over last year. In those cities, gun assaults increased by 10% over 2019.
Author(s): Patrik Jonsson
Publication Date: 14 December 2020
Publication Site: Christian Science Monitor