Link: https://nysba.org/app/uploads/2021/06/11.-Task-Force-on-Nursing-Home-and-Long-Term-Care-Report-staff-memo-and-comments-6.11.2021.pdf
Graphic: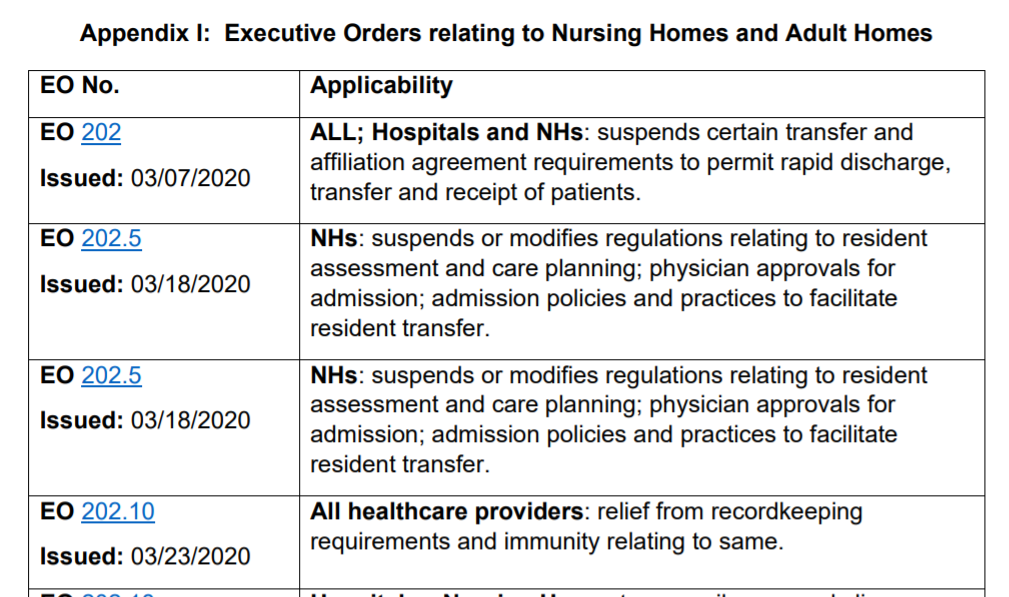 Excerpt:
Because of the anticipated need for large numbers of hospital beds, the Governor, in his first Executive Order issued under his emergency powers, authorized hospitals to "rapidly discharge" patients47. An especially important event in terms of the State's health care capacity occurred on March 23rd. On that date, Governor Cuomo issued an Executive Order requiring that all hospitals cancel elective surgeries to free up hospital beds, and urged that hospitals go beyond the order and increase their capacity by 100%. Health officials said that day that New York had 53,000 hospital
beds with an anticipated need due to COVID-19 of 113,000. Officials also stated that New York had 3,000 ICU beds with an anticipated need due to COVID-19 of 18,000.


Two days later, on March 25th, the Department of Health issued the now infamous Advisory to nursing homes. The Advisory was explicitly issued out of concern for hospital capacity. It said so in its second sentence. "There is an urgent need to expand hospital capacity in New York State to be able to meet the demand for patients
with COVID-19 requiring acute care." The Advisory went on to state the expectations for nursing homes.
Author(s): New York State Bar Association Task Force on COVID-19 in New York Nursing Homes and Long-Term Care
Publication Date: June 2021
Publication Site: New York State Bar Association